Alida County: Alida Fire Department

Alida - County is a (fitctiv) district in South Carolina with approx. 15,000 inhabitants. The surroundings are to be considered as rather rural and big farm areas determine the picture of this area. The ground is valid as very fertile, so that also many oranges - plantations are settled here, although the temperatures lie during the summer months mostly more than 40 degrees centigrade. The real city of "Alida" exists of many mostly one to two-storied houses and one finds there the urban infrastructure (supermarkets; filling station; cinema; however, doctors etc.), the "life" happens, as already mentioned, on the farms and plantation. The town Alida owns several fire stations:
- Headquater Aramingo Avenue
- Center of Special Operations General v. Steuben Avenue
- Fire Station Bedford Road (Closed in 1980)
- Fire Station Capitol Heights
- Fire Station Spanish Harlem
- Fire Station Arlington Road
- Fire Station Queens Street
- Fire Station William's Bridge Road
- Fire Station Southwest
- Fire Station Bapistian Church
- Fire Station Spring Garden Street
- Fire Station Heaven´s End
- Fire Station Lincoln Park
- Fire Station St. Johns Place
- Fire Station East 11th Street
- Fire Station Devil Hill´s
Most vehicles become because of the tense financial situation of the Departments mostly uses bought and by div. Companies worked off or to the interests of the Departments conformist. Often selected vehicles of the FDNY are acquired by what the very big number of different vehicles of the Factory Seagrave explains itself. Completely new vehicles are rather the exception, however, are also procured at times. On account of the tense finances one renounces a great design with the vehicles and concentrates upon the real equipment and the duties of these vehicles, namely the extinguishing of fires, as well as help of all kind.
Fire Station Bedford Road (Closed 1980)
Engine 01 (out of Service)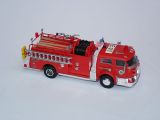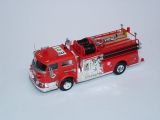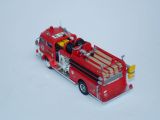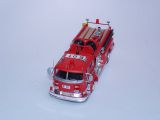 American LaFrance, Pump 1500 gpm/Tank 500gal, 671 Detroit Diesel, 5 speed std. shift, build 1968
Engine 03 (out of Service)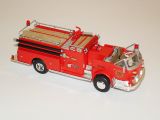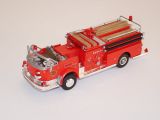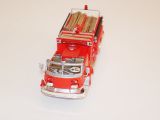 American LaFrance, Pump 1500 gpm/Tank 500gal, 671 Detroit Diesel, 5 speed std. shift, build 1968
Headquater Aramingo Avenue
Chief of Department
Chevrolet Caprice build 1996
Chief of Division 1
Chevrolet Caprice build 1996
Chief of Division 2
Chevrolet Caprice build 1996
Field Command Unit
Freightliner MT-55 Van; build 2002
Fire Station Capitol Heights
Lader 03, Hook & Ladder
Seagrave JB; 100 Feet; build 1988
Foam Tender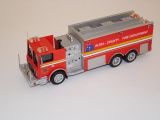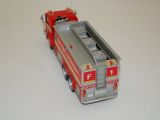 Mack MR, Body by Saulsbury, KME Pump 1000 gpm/Tank 4000 gal Water/300 gal Foam, build 1999
Engine 06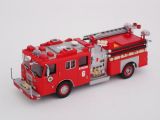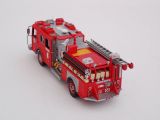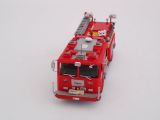 Seagrave JB, Pump 1.000 gpm/Tank 500 gal, build 1998
HAZ MAT 02
MACK MR, body by Saulsbury, build 1986
Fire Station Spanish Harlem
Engine 03, Pumper and Hose Wagon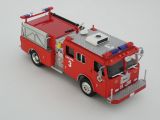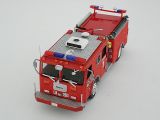 Seagrave HB, Pump 750 gpm/Tank 500 gal, build 1998
Truck 01, Tiller Ladder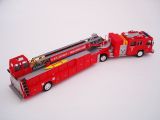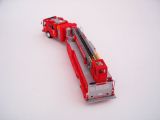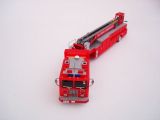 Seagrave HB/Maxim; 100 Feet; Pump 1.000 gpm; build 2000
Fire Station Arlington Road
Engine 02
Seagrave JB, Pump 1.000 gpm/Tank 500 gal, build 2000
Truck 02, Hook & Ladder
Seagrave Marauder I/Maxim; 85 Feet; build 1985; retrofitted 2002
Fire Station Queens Street
Squad 01
Seagrave JB, Pump 1.000 gpm/Tank 500 gal, build 1998
Rescue 01
Emergency One, body by Saulsbury, build 2002
HAZ MAT 01
MACK MR, body by Saulsbury, build 1984
Fire Station William's Bridge Road
Squad 02
Seagrave JB, Pump 1.000 gpm/Tank 500 gal, build 1995
Ladder 04, Hook & Ladder
Seagrave JB; 90 Feet; build 1983
Fire Station Southwest
Engine 04
Freightliner FL 60, body by E - One, Pump 750 gpm/Tank 300 gal, build 2002
Fire Station Bapistian Church
Rescue 02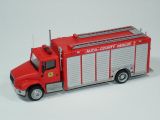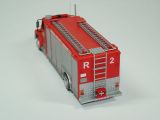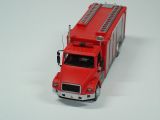 Freightliner FL 70, Body by Hackney & Sons, build 1999
Engine 01
Freightliner FL 80, body by Segrave, Pump 1.000 gpm/Tank 200 gal, build 2002
Fire Station Spring Garden Street
Engine 05
Seagrave JB, Pump 750 gpm/Tank 300 gal, Squrt 55 Feet, build 1998
Truck 03, Tower Ladder
Seagrave JB; body by Seagrave; 95 Feet Boom by Baker; build 2005
Fire Station Heaven´s End
Squad 03
Marauder II Seagrave; Pump 1.000 gpm/Tank 500 gal; build 2010
Rescue 4 (Heavy Rescue)
HME; Saulsbury body; build 1996
Fire Station St. Johns Place
Engine 07
Marauder II; body by Seagrave; Pump 750 gpm/Tank 500 gal; build 2010
Fire Station East 11th Street
Engine 08
Seagrave Marauder; 55 foot; build 1995
Collapse Rescue
Emergency One, body by Saulsbury; build 1986
Fire Station Devil Hill´s
Engine 09
Segrave JB; body by KME; build 1985
Fire Station Lincoln Park
Fire Patrol 1
Ford Super Duty 250, build 2010
Fire Patrol 2
Ford Super Duty 250, build 2010
Crew Carrier 03
Ford Expedition, build 2011
Rescue 04
Ford Super Duty build 2011; body by Swab Wagon Company